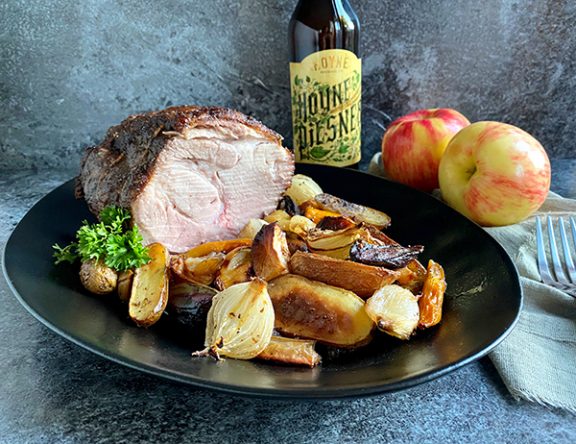 Serves: 6-8
Prep Time: 15 minutes | Cook Time: 1 hour 45 minutes | Total Time:  2 hours 15 minutes
Ingredients:
3 cups fingerling potatoes, halved (or 3 large Yukon gold potatoes, cut into 1-inch cubes)
1 large yellow onion, cut into 1-inch cubes
2 honeycrisp apples, cut into 1-inch pieces
3 large carrots, cut into 1-inch pieces
1 tablespoon + 2 teaspoons olive oil
1 tablespoon + 1 teaspoon salt
1 tablespoon cumin seeds
2 teaspoons caraway seeds
3 teaspoons ground black pepper, divided
8 cloves, whole
5 kg boneless pork shoulder
1 cup of your favourite pilsner or brown ale (or substitute with 1 cup of low-sodium beef stock)
Directions:
Preheat the oven to 375 degrees F.
Add the potatoes, onion, apples, and carrots to the bottom of a large roasting pan (16×13 inches) and arrange in a single even layer. Season with 2 teaspoons of olive oil, 1 teaspoon of salt and 1 teaspoon of ground black pepper and mix to combine. Set aside.
Place 1 tablespoon of salt, the cumin seeds, the caraway seeds, 2 teaspoons of black pepper and the cloves into a mortar. Grind with a pestle until the seeds are broken up into a chunky powder. You can also add the spices to a spice grinder to grind the spices.
Place the pork shoulder on top of the vegetables. If there is a layer of fat on one side of the pork shoulder, score the fat with a sharp knife in a diamond pattern and place face-up in the roasting pan. This will create a nice crackling-crust when roasted.
Next, add the remaining 1 tablespoon of olive oil to the pork and sprinkle all sides of the pork with the spice mixture.
Place the pork and vegetables into the centre of the oven and bake uncovered for 1 hour. After 1 hour, add the beer (or beef stock) to the bottom of the pan, then continue to cook for another 30-45 minutes, or until the pork has reached an internal temperature of 145 degrees F.
Remove the pork shoulder from the pan and let rest on a cutting board for 15 minutes to let the juices redistribute in the meat before slicing.
Return the vegetables to the oven and increase the heat to 400 degrees F. Let the vegetables continue to cook until the pork is fully rested.
Slice the meat into 1-cm thick slices and serve with the roasted vegetables and a glass of beer (or your favourite beverage).