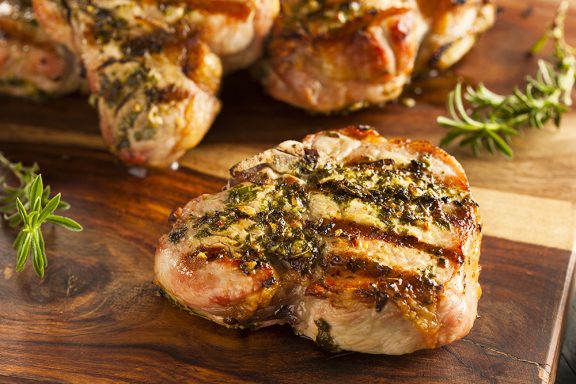 Total: 30 Minutes
Prep: 10 Minutes
Cook Time 20 Minutes
Serves: 4
Ingredients
4 medium-sized pork loin chops
Kosher salt
Freshly ground black pepper
6 tablespoons of Liberte unsalted butter – melted
2 tablespoon of fresh thyme – chopped
4 cloves of minced garlic
2 tablespoons of Gallo Extra Virgin Olive Oil
Directions
Preheat oven to 375F
In a cutting board, Season the pork loin chops with kosher salt, freshly ground black pepper
In a medium-sized mixing bowl, mix the melted butter, chopped thyme and minced garlic. Set aside.
In a cast iron skillet, turn heat to medium and   add 2 tablespoons of olive oil.
When the skillet is hot and ready, add the pork loin chops. Sear for about 2 minutes per side or until each side turns to a golden brown colour.
Pour the garlic butter and thyme mixture all over the pork loin chops.
Finish cooking the pork loin chops by placing the skillet in the oven and cook for about 10-12 minutes. Check if pork loin chops reached an internal temperature of 145F.