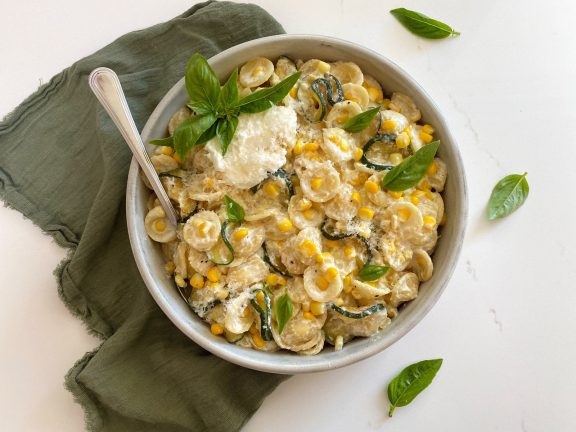 Serves: 4-6
Prep Time: 5 minutes  | Cook Time: 20 minutes  | Total Time: 25 minutes
Ingredients:
For the Pasta & Vegetables:
Water, for boiling
1 tablespoon + ½ teaspoon sea salt
250 grams orecchiette pasta
2 tablespoons olive oil
1 medium zucchini (about 2 cups), sliced into 2-mm thick rounds
3 ears fresh corn, corn sliced off the cob (about 3 cups)
4 cloves garlic, finely chopped
1 teaspoon ground black pepper
1 cup basil leaves, roughly chopped, for garnish
For the Ricotta Sauce:
1 ½ cups extra smooth ricotta cheese, plus ½ cup extra for garnish
1 cup Parmesan cheese, finely grated
1 tablespoon fresh lemon zest
½ teaspoon ground black pepper
1 cup pasta water
Directions:
Bring a large pot of water to a boil over high heat. Once boiling, add 1 tablespoon of salt to the water, followed by the pasta. Stir, reduce the heat to medium, and let cook for 8-9 minutes (or according to package directions) until al dente.
Heat a large frying pan over medium-high heat. Once hot, add the olive oil, the zucchini rounds, and the remaining ½ teaspoon of sea salt. Fry for 2-3 minutes per side, or until the zucchini have softened and have become a light golden brown.
Next, add the corn to the pan with the zucchini with the garlic and black pepper. Mix to combine and cook for 2-3 minutes, stirring occasionally, until the corn has become bright yellow.
Next, make the ricotta sauce. Add the ricotta to a medium-sized bowl along with the Parmesan, lemon zest, and black pepper. Use a measuring cup to scoop ¼ cup of the pasta water from the pot and slowly add it into the ricotta mixture, mixing to combine. Continue to add the pasta water ¼ cup at a time, mixing in between each addition, until you have added 1 full cup. Set aside.
Use a slotted spoon to transfer the cooked pasta from the pot into the frying pan. Toss to combine.
Next, reduce the heat to medium and add in the ricotta mixture. Toss to combine and cook for 2-3 more minutes, until the sauce is clinging to the pasta and there is very little water left in the pan.
Serve in bowls garnished with basil leaves and an extra scoop of ricotta cheese. Serve immediately and enjoy!