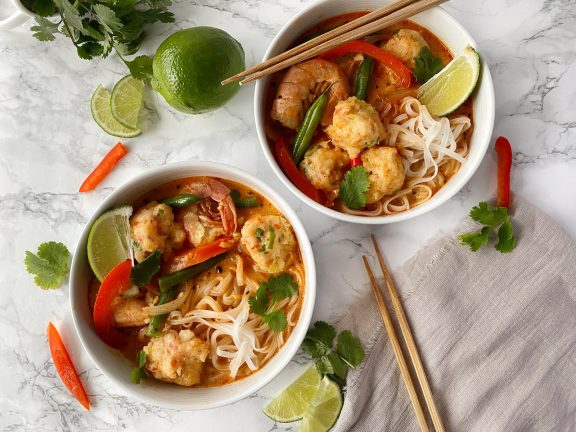 Serves: 4
Prep Time: 30 minutes | Cook Time: 20 minutes | Total Time: 50 minutes
Ingredients:
For the Shrimp Balls:
450 grams Argentinean shrimp, peeled and deveined (you can also substitute tiger prawns)
2 tablespoons cornstarch
¼ teaspoon sea salt
2 tablespoons red bell pepper, finely chopped (about ¼ red bell pepper)
1 scallion, finely chopped
For the Soup & Vegetables:
1 tablespoon coconut oil
1 medium yellow onion, sliced
3 tablespoons Thai red curry paste (add an extra tablespoon if you like spicy soup)
2 cloves garlic, finely chopped
1 teaspoon ginger, finely chopped
4 cups water
1 400 gram can full-fat coconut milk
1 teaspoon dried basil leaves
1 tablespoon granulated white sugar
2 teaspoons low-sodium soy sauce
2 teaspoons fish sauce
¾ red bell pepper, sliced
1 ½ cups green beans, cut into 1-inch pieces
½ cup cilantro, roughly chopped, for garnish
1 lime, quartered, for garnish
200 grams rice noodles, cooked
Directions:
Begin by making the shrimp balls. Place the peeled and deveined shrimp into a food processor. Pulse to roughly chop the shrimp into small pieces. Once roughly chopped, add the cornstarch and salt and pulse until combined. The shrimp should be a chunky paste consistency.
Remove the shrimp paste from the food processor and place into a medium-sized bowl. Add the finely chopped red bell pepper and scallions to the paste and mix until combined. Place in the refrigerator for 20 minutes to rest.
To make the soup, add the coconut oil to a large pot and heat over medium-high heat. Once melted, add the onion and sauté for 1 minute. Add the Thai red curry paste to the pot and mix to combine. Cook for 2-3 minutes, stirring often, to toast the curry paste and bring out the flavour.
Add the garlic and ginger to the pot and cook for 30 seconds before adding the water, followed by the coconut milk. Mix to combine.
Season the soup by adding the dried basil leaves, white sugar, soy sauce, and fish sauce. Mix to combine and reduce the heat to medium. Cover and let cook for 15 minutes.
After 15 minutes, add the shrimp balls. Use a tablespoon to scoop 1 heaping tablespoon of the shrimp paste out of the bowl and slide it off the spoon into the soup using your finger. Repeat this process, ensuring that the shrimp balls do not touch each other as they are added to the soup. Cover and let simmer over medium heat for 4 minutes.
As the shrimp balls cook, prepare the rice noodles according to package directions.
Increase the heat to medium-high and add the sliced red bell pepper and green beans to the pot. Cook for 3-4 minutes, just until the vegetables have begun to soften slightly.
To serve, divide the rice noodles evenly amongst 4 bowls and add the shrimp balls and soup on top. Garnish with the chopped cilantro and a lime wedge and enjoy!