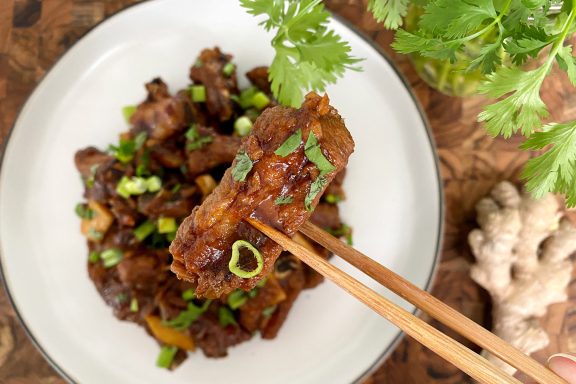 Servings: 4
Prep Time: 30 minutes | Cook Time: 1 hour | Total Time: 1 hour 30 minutes
Ingredients:
For Preparing the Pork Ribs:
Water, for soaking and boiling
1 rack pork ribs (~1kg)
¾ cup white vinegar, divided
1 tablespoon sea salt
For the Sauce:
1 tablespoon grapeseed oil
6 cloves garlic, roughly chopped
1 tablespoon ginger, peeled and sliced
4 scallions, white ends cut into 1-inch pieces, green ends finely chopped
¼ cup low-sodium soy sauce
¼ cup white vinegar
1 cup water
3 tablespoons white sugar
1 tablespoon ketchup
1 tablespoon sriracha (optional)
2 tablespoons cilantro, for garnish
Directions:
To Prepare the Pork Ribs:
Remove the pork ribs from the packaging. Use a knife to slice down the back of the rack of ribs and peel off the silver skin along the ribs. This will make the ribs more tender and easier to eat. Discard the silver skin.
Use a sharp knife to slice each rib off the rack. Then use a cleaver to chop each rib in half. If you do not have a cleaver or a knife that is sharp enough to cut through the pork rib bones, leave the ribs whole.
Place the ribs in a large bowl and fill it with cool water. Add ¼ cup of white vinegar and 1 tablespoon of salt. Let soak for 15 minutes.
Rinse the pork ribs thoroughly under cold water, then transfer to a large pot. Add another ¼ cup of white vinegar to the pot and fill the pot with cool water, just enough to cover the ribs.
Place the pot on the stove and bring to a boil. Boil for 10 minutes. This will cook the ribs and remove impurities. Drain the ribs after 10 minutes and rinse thoroughly with cool water. Wash out the pot you used to boil the ribs to remove any additional impurities.
Repeat this process once more by adding the remaining ¼ cup of white vinegar to the pot, cover the ribs with cool water, and boil for another 10 minutes. Drain the ribs and rinse with cool water. Wash out the pot you used to boil the ribs to remove any additional impurities.
To Cook the Pork Ribs:
Add the grapeseed oil to the cleaned pot. Heat over medium-high heat. Once hot, add the cleaned pork ribs to the pot along with the garlic, ginger, and white ends of the scallions. Sauté for 2 minutes, then add the soy sauce, white vinegar and water. Reduce the heat to medium, cover, and simmer for 30 minutes.
After 30 minutes, remove the lid and increase the heat to medium-high. Add the sugar, ketchup, and sriracha (if using). Mix to combine and boil for 5-8 minutes, or until the sauce has reduced and is thick enough to coat the ribs.
Remove from the heat and arrange the ribs on a platter. Garnish with the green ends of the scallions and the cilantro. Serve immediately and enjoy!