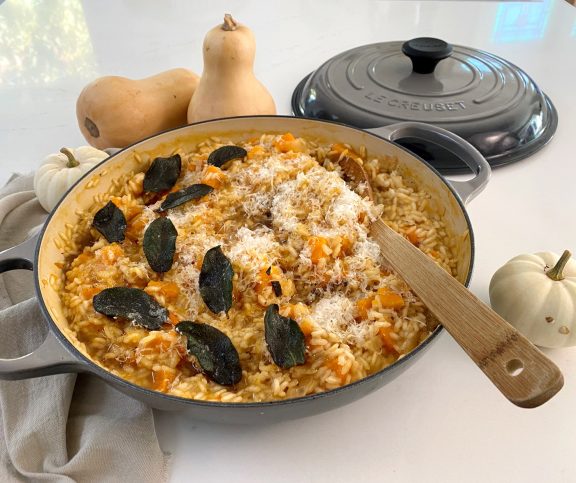 Serves: 8
Prep Time: 15 minutes | Cook Time: 1 hour 30 minutes | Total Time: 1 hours 30 minutes
Ingredients:
8 tablespoons olive oil
1 2.5-pound butternut squash
½ teaspoon sea salt
½ teaspoon ground black pepper
1 cup yellow onion, finely chopped
2 garlic cloves, finely chopped
2 cups arborio rice
1 cup white wine
6 cups low-sodium vegetable broth (or substitute chicken broth for non-vegetarian option)
1 cup Parmesan cheese, grated, plus extra for garnish
1/8 teaspoon ground nutmeg
¼ cup butter
8 sage leaves, whole
Directions:
To Cook the Squash:
Preheat the oven to 400 degrees F. Line a baking tray with parchment paper and set aside.
Slice the butternut squash lengthwise to expose the seeds. Scoop out the seeds using a spoon and discard.
Season the cut side of the butternut squash with the salt and pepper and drizzle with 1 tablespoon of olive oil on each half.
Place the squash cut side down on the parchment lined baking tray. Roast for 1 hour in the oven, or until soft. Once cooked, let cool while you make the risotto.
To Make the Risotto & Sage Brown Butter:
Heat 2 tablespoons of olive oil in a large frying pan over medium heat. Once hot, add the onion to the pan. Cook, stirring often for 3-4 minutes, or until the onions have softened.
Add 1 ladle (approximately ½ cup) of the vegetable broth to the pan. Let the onion cook for 2 minutes in the broth to soften further. Add the garlic and cook for 1 minute.
Add the arborio rice to the pan along with 2 tablespoons of olive oil. Toast, stirring often for 2 minutes, or until the edges of the rice begin to turn translucent.
Add ½ cup of wine to the pan and stir until the wine absorbs into the rice. Reserve the remaining wine for later.
Add ½ cup of vegetable broth to the pan at a time, stirring until all the broth has been absorbed. Continue this process until all the broth has been added, this should take 15 to 20 minutes.
As the risotto is cooking, remove the skin from the butternut squash and cut into 1-cm cubes. Set aside.
After 20 minutes, add the remaining ½ cup of wine, followed by the butternut squash, nutmeg, and Parmesan cheese. Stir to combine.
Taste the rice—it should be tender but still have a bit of a bite in the center. Turn the heat to low to keep warm.
In a separate frying pan, heat the butter and the remaining 2 tablespoons of olive oil over high heat. Once hot, add the sage leaves and cook for 2-3 minutes until crispy.
Place the risotto in serving bowl and garnish with extra parmesan cheese, brown butter, and sage leaves. Serve immediately and enjoy!