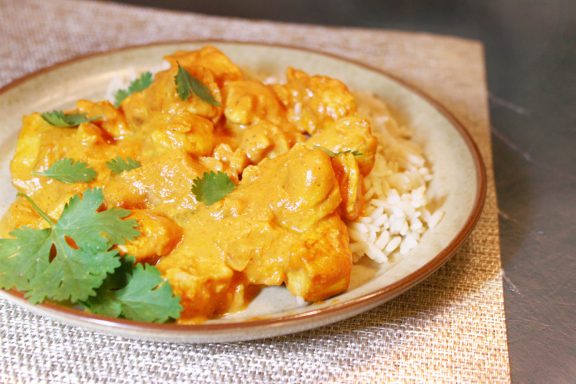 Prep: 20 minutes
Cook: 40 minutes
Serves: 4
INGREDIENTS
• 4 Chicken Breasts, skinless
• 1 large onion finely chopped
• 3 tbsp of butter
• 2 tsp garlic crushed
• 1 tsp fresh ginger grated
• 1 tsp green chili peppers finely chopped
• ½ tsp paprika
• 1 tbsp curry powder
• 1 cup tomato sauce
• 1 tsp salt to taste
• 1 cup whipping cream
• 1 tbsp fresh cilantro chopped
DIRECTIONS
1. Cut chicken into bite sized pieces and brown in a saucepan, then set aside.
2. In saucepan, fry onions in butter until golden brown.  Add garlic, ginger, chili  peppers, paprika and curry powder.  Fry for a few seconds.
3. Add tomato sauce, salt and chicken, slowly bringing to boil.  Reduce heat simmering until chicken is nearly done about 15-20 minutes.
4. Add whipping cream, stir and simmer until chicken is tender.  Garnish with cilantro.
5. Serve with Naans and plain rice.
By Ashley Bourque