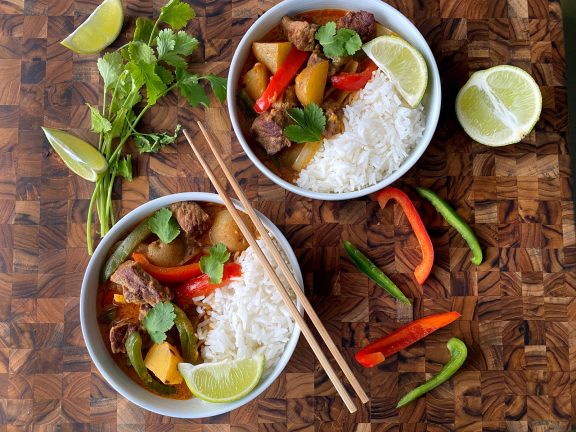 Serves: 4
Prep Time: 20 minutes | Cook Time: 1 hour 30 minutes | Total Time: 1 hour 50 minutes
Ingredients:
1 pound stewing beef, cut into 2-cm cubes
1 tablespoon coconut oil
1 cup yellow onion, divided (½ cup finely chopped; ½ cup thinly sliced)
4 cloves garlic, finely chopped
1 teaspoon ginger, peeled and finely chopped
3 tablespoons Thai red curry paste
2 tablespoons smooth peanut butter
1 cup water
1 can (400 mL) coconut milk
3 cilantro stems, plus leaves for garnish
1 tablespoon brown sugar
1 tablespoon fish sauce
2 medium Yukon gold potatoes, washed, unpeeled, cut into 2-cm cubes
1 medium red bell pepper, sliced 1-cm thick
1 small green bell pepper, sliced 1-cm thick
2 cups cooked jasmine rice
1 lime, quartered, for garnish
Directions:
Heat a large pot over medium-high heat. Once hot, add the coconut oil, followed by the beef. Sear the beef on all sides, working in batches as needed to avoid overcrowding the pan. Once all the beef is seared, set aside for later.
Add the finely chopped yellow onion, garlic, and ginger to the pot. Stir fry for 1-2 minutes until fragrant and the onions and garlic are beginning to soften.
Add the red curry paste to the pot and cook for 1 minute. Then add the peanut butter and cook for another minute. Use a wooden spoon to scrape the brown bits off the bottom of the pot.
Add the water, coconut milk, cilantro stems, brown sugar, and fish sauce to the pot and mix to combine.
Reduce the heat to low and simmer, covered, for 30 minutes.
After 30 minutes, add the potatoes to the pot and simmer, covered for another 30 minutes.
Add the peppers and remaining onion to the pot and mix to combine. Increase the heat to medium and cook, uncovered, for 5 minutes, or until the vegetables have begun to soften.
Spoon the curry into a bowl with cooked jasmine rice. Top with extra cilantro and lime as a garnish. Enjoy!