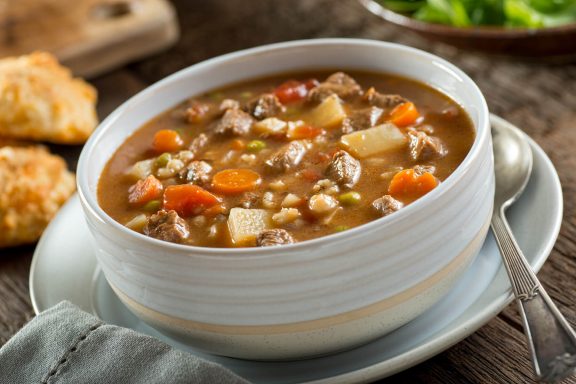 Prep Time: 10 min
Cook Time: 1 hrs 45 min
Total Time: 1 hrs 55 min
Ingredients
1 lb stewing beef
1 tsp salt
1 tsp pepper
1/2 cup flour
2 tbsp olive oil
1 large onion chopped
1 large carrot, peeled and chopped
2 celery stalks, cleaned and chopped
3 cloves garlic, minced
1 tbsp fresh oregano, chopped (or 1 tsp dried oregano)
3 tbsp tomato paste
4 cups low sodium beef broth
3 cups water
3/4 cup barley
1 tbsp fresh parsley, chopped
Directions
Season the stewing beef generously with salt and pepper. Place the beef in a ziploc bag and pour the flour over the beef. Close the ziploc bag and shake until each piece of beef is fully covered in flour. Add more flour if needed.
Heat the olive oil in a Dutch oven over medium-high heat. Add the beef to the pot and cook just until the meat starts to brown. You will have to do this in 2 or 3 batches, to successfully brown the meat. Remove the meat from the pot after you're done and set aside.
In the same pot, you will now have a lot of brown bits on the bottom, add the chopped onion, carrots and celery. Cook the vegetables until soft, about 5 minutes, stirring occasionally.
Add the garlic, oregano and tomato paste to the pot and stir. Add the meat back to the pot, then the beef broth and water and season with salt and pepper. Bring to a boil, then turn down the heat to medium and cook for about 45 minutes, stirring occasionally. Cook until beef becomes tender, it will melt in your mouth. Add the barley to the pot and cook for another 30 minutes or until the barley is cooked through. Stir occasionally so the barley won't stick. If you find that too much liquid has evaporated or the soup is too thick add more water as necessary until you get a desired consistency.
Remove the soup from heat and garnish with fresh parsley before serving.