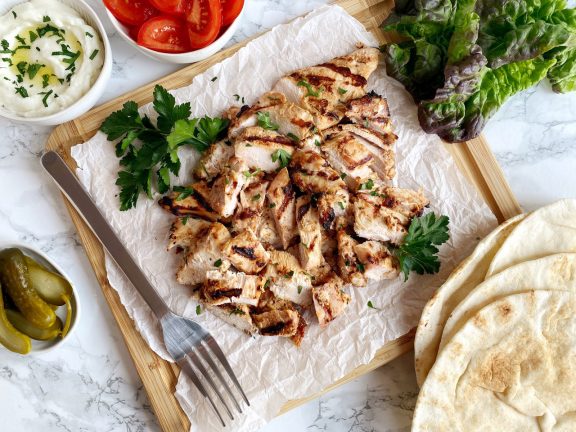 Serves: 4 | Prep Time: 15 min. | Marinating Time: 4 hr (minimum) | Cooking Time: 15 min. | Rest Time: 10 min. | Total Time: 4 hrs 40 min.
Ingredients:
For the Chicken & Marinade:
2 chicken breasts
6 chicken thighs
1 cup Greek yogurt
4 garlic cloves, finely chopped
1 tablespoon sweet paprika
1 teaspoon ground cumin
1/2 teaspoon smoked paprika
1/2 teaspoon ground coriander
1/4 teaspoon ground cinnamon
1/4 teaspoon ground cardamom
1 tablespoon olive oil
For the Pita and Toppings:
4 pita breads, slightly toasted
2 medium tomatoes, sliced
4 large leaves of lettuce
8 small garlic pickles, sliced in half
1/2 cup garlic sauce (also known as Toum)
1/4 cup avocado oil, for grilling
Directions:
Begin by preparing the chicken. Place a chicken breast flat on a cutting board. Use a sharp knife to slice the chicken breast through the middle, creating two thin chicken breasts. Repeat for the remaining chicken breasts.
Add the chicken breasts and chicken thighs to a medium-sized bowl along with the rest of the marinade ingredients. Mix everything to combine.
Let the chicken marinade overnight (or at least four hours) to allow all the flavours to come together.
Remove the chicken from the refrigerator 30 minutes prior to grilling. Remove the chicken breasts and thighs from the marinade, scraping off any excess yogurt. Set on a plate and take it out to the grill once you're ready to cook.
Preheat the barbeque to 400°F. Once hot, use a silicone brush (or scrunched up paper towel) to lightly brush the grill with avocado oil. Add the chicken breast to the grill and cook for 4-5 minutes per side. After 10 minutes, the chicken should be fully cooked and should have char marks. Remove the chicken from the grill, and let it rest for 10 minutes to allow the juices to redistribute in the chicken.
Once the chicken has rested, use a sharp knife to slice the chicken into thin strips. Place the sliced chicken onto a toasted pita, then add the tomatoes, lettuce, pickles, and garlic sauce. Wrap the pita up and enjoy right away!
Recipe notes: 
You can make this BBQ Chicken Shawarma by turning it into a bowl. Use a base of rice or lettuce in your bowl and then add your grilled chicken favourite toppings. Enjoy!