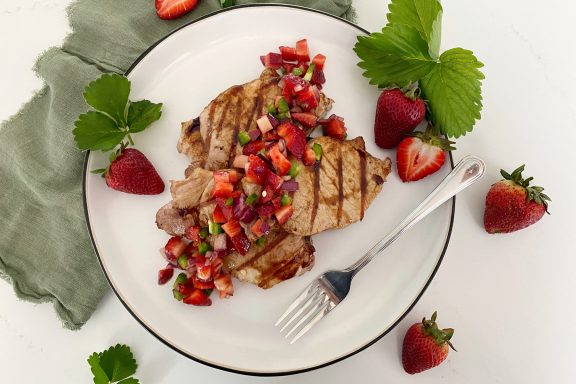 Serves: 4
Prep Time: 20 minutes | Cook & Resting Time: 15 minutes | Total Time: 25 minutes
Ingredients:
For the Pork Chops & Marinade:
4 pork chops, approximately 2-cm thick
1 tablespoon olive oil
¼ cup balsamic vinegar
½ teaspoon sea salt
½ teaspoon ground black pepper
For the Strawberry Salsa:
1 pint fresh strawberries, tops removed, finely chopped
1 medium jalapeño, seeds and membrane removed, finely chopped
¼ cup red onion, finely chopped
3 tablespoons balsamic vinegar
1 teaspoon olive oil
¼ teaspoon sea salt
Directions:
Add the pork chops and all the other marinade ingredients to a large bowl. Mix to combine and set aside at room temperature to marinade for 15 minutes.
Chop and combine all the Strawberry Salsa ingredients in a medium-sized bowl. Mix to combine then place in the refrigerator to chill.
Preheat a grill to 400 degrees F. Remove the pork chops from the marinade and place on the grill. Grill, covered, for 4-5 minutes per side, or until fully cooked. Remove the pork chops from the grill, cover with aluminum foil, and let rest for 10 minutes.
To serve, place the pork chops on a serving plate and top with 2-3 heaping tablespoons of the strawberry salsa. Serve immediately and enjoy!