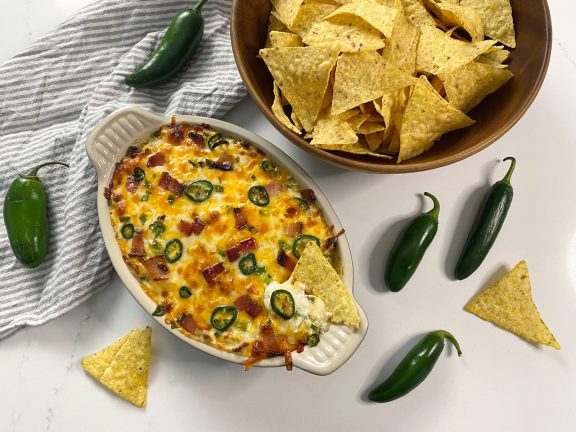 Serves: 8
Prep Time: 15 minutes | Cook Time: 35 minutes| Total Time: 50 minutes
Ingredients:
4 strips Double Smoked Bacon
8 medium jalapeno peppers, 7 finely chopped, 1 thinly sliced
2 stalks celery, finely chopped
1 shallot, finely chopped
2 250-gram packages cream cheese, at room temperature
½ cup sour cream, full fat
½ cup mayonnaise
3 cups Red Barn Marble cheese, grated
1 tablespoon Worcestershire sauce
½ teaspoon sea salt
1 teaspoon ground black pepper
4 scallions, finely chopped
Nacho chips, for serving
Directions:
Heat a large frying pan over medium-high heat. Once hot, add the bacon to the pan and fry for 3-4 minutes per side, or until crisp. Remove the cooked bacon from the pan and drain on a paper towel. Set aside and let cool.
Drain all but 1 tablespoon of bacon fat from the pan. Place the pan over medium-high heat. Add the 7 chopped jalapenos, celery, and shallot to the pan and cook for 5 minutes, stirring occasionally, or until the vegetables have softened. Once soft, remove from the heat and set aside to cool.
Preheat the oven to 400 degrees F.
In a large bowl, combine the softened cream cheese, sour cream, mayonnaise, 2 cups of grated marble cheese, Worcestershire sauce, salt, pepper, and scallions. Reserve at least 1 tablespoon of the scallions for garnish.
Slice the cooled bacon into 1-centimeter sized pieces and add to the cheese mixture along with the cooled vegetables. Reserve 1 tablespoon of the chopped bacon for garnish. Mix to combine.
Scoop the dip into an 8×8 inch baking dish and use a spatula to smooth out the dip into an even layer.
Top the dip with the remaining 1 cup of marble cheese, and arrange the reserved bacon, scallions, and sliced jalapeno on top of the dip.
Bake in the centre of the oven for 20 minutes, or until bubbling and golden brown.
Remove from the oven and serve immediately with nacho chips. Enjoy!
Recipe Notes:
Remove the seeds from the jalapenos to enjoy a milder Bacon Jalapeno Popper Dip.
You can make this recipe up to 2 days in advance. Simply cover and keep refrigerated until ready to bake.