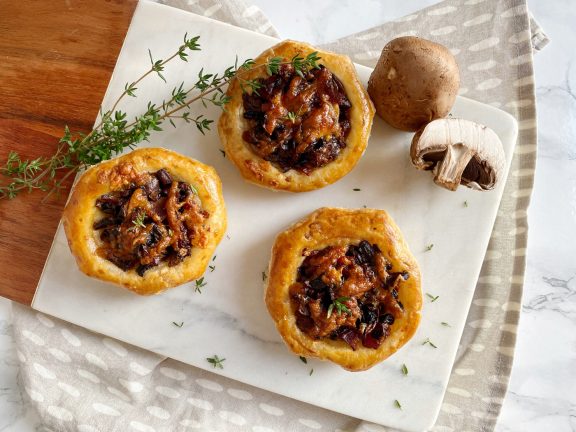 Serves: 8
Prep Time: 10 minutes  | Cook Time: 40 minutes  | Total Time: 50 minutes
Ingredients:
6 strips Red Barn Double Smoked Bacon
2 cups crimini mushrooms, finely chopped
¼ cup shallots, finely chopped
2 teaspoons fresh thyme leaves (removed from the stem)
1 teaspoon ground black pepper
2/3 cup Red Barn Smoked Gouda cheese, grated
2 sheets puff pastry
¼ cup all-purpose flour, for rolling out the pastry
1 egg, beaten
1 tablespoon milk
Directions:
Heat a large frying pan over medium-high heat. Once hot, add the bacon strips and cook for 3-4 minutes per side, until the bacon is crisp. Once cooked, remove from the pan and drain on a paper towel. Let the bacon cool and then chop finely.
Drain all but 1 tablespoon of bacon fat from the frying pan. Reheat the frying pan over medium-high heat. Once hot, add the finely chopped mushrooms, shallot and black pepper. Stir to combine and cook for 10 minutes, or until the mushrooms and onions have softened and have released all their water.
Remove the mushroom mixture from the heat and add in the chopped bacon, thyme leaves and ½ cup of the smoked gouda. Mix to combine and let cool completely.
Preheat the oven to 400 degrees F.
Sprinkle some flour over a clean work surface. Use a rolling pin to roll out the puff pastry into two 6×6 inch squares. The puff pastry should be 1 cm thick.
Use a 3-inch round cookie cutter to cut out 4 circles per sheet of puff pastry then place the rounds on a parchment-lined baking tray.
Use a fork and prick the center of each puff pastry round three times. This will keep the puff pastry from puffing up too much in the oven and will help to hold the filling.
In a small bowl, combine the egg and the milk to create an egg wash. Use a pastry brush to brush the egg wash on top of each puff pastry round.
Place a heaping tablespoon of the bacon and mushroom mixture into the center of each puff pastry round, leaving a 2-cm border around the outside. Top each round with 1-2 teaspoons of the smoked gouda cheese.
Place the tartlets in the oven and bake for 20-22 minutes, or until the pastry has puffed up and is golden brown.
Garnish with a sprinkle of fresh thyme leaves and enjoy!
Recipe created by a local Victoria recipe developer; Melissa from from Season & Serve Blog