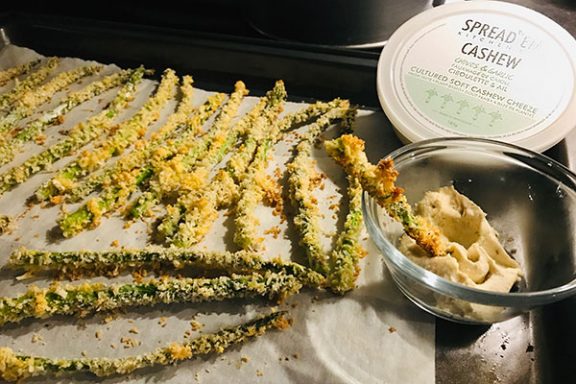 Prep Time: 5 Minutes
Cook Time: 13 Minutes
Total Time: 18 Minutes
Serves: 2-3
INGREDIENTS
1 lb asparagus, washed & trimmed
¼ cup flour
2 eggs, beaten
1 cup Panko breading
¼ cup Pecorino Romano & Parmesan cheese, shredded
Spred Em' Kitchen Cashew Chive & Garlic dip
Salt & Pepper, to taste
INSTRUCTIONS
Mix panko breading with pecorino romano, parmesan cheese, salt and pepper. Roll each asparagus spear in flour, then coat in egg, then roll and coat in Panko mixture.
Place spears on a parchment lined tray.  Bake in 400°F oven for 12 minutes.
Serve asparagus with dip and enjoy!
TIP:
Heat Spread Em' Kitchen Cashew Chive & Garlic spread in a bowl in the microwave for 30 seconds.
Recipe by Trena Green