August 6, 2019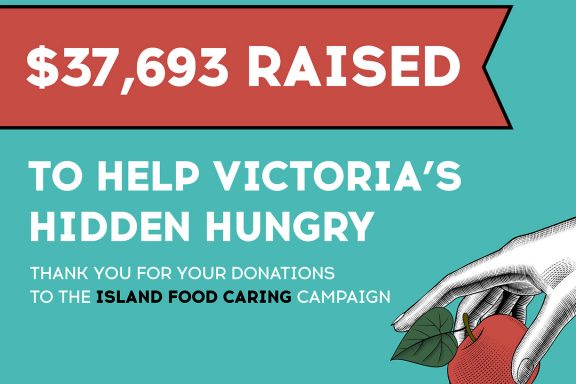 Local Grocers and Victoria Foundation Raise $37,693 to Support Food Rescue Project
For Immediate Release
August 6, 2019
VICTORIA, BC – Five grocery store operators have raised $18,847 with their recent Island Food Caring campaign, which was matched by the Victoria Foundation to take the total to $37,693. The money will go to support the Food Rescue Project, an initiative of The Food Share Network, that recovers and redistributes healthy, fresh food to food insecure communities in the region.
The five participating grocery stores include Country Grocer, Fairway Market, Red Barn Market, The Root Cellar and Thrifty Foods. "We are thrilled with the response of our customers donating at the tills to support the Food Rescue Project," said Vice-President of Fairway Market Robert Jay. "We kept using the same line throughout the campaign – it takes a community to feed a community – and our customers answered the call."
The Island Food Caring campaign ran in participating grocery stores throughout the capital region from June 1 – 23. People donated at the till or via the program's website. In-store promotions were reinforced by additional marketing by the partners including social media. Funds raised went to the Victoria Foundation to be distributed to Food Share Network partner organizations participating in the Food Rescue Project. Donations can continue to be made at www.islandfoodcaring.ca.
"50,000 of our neighbours don't know where their next meal is coming from and that is unacceptable," added Russ Benwell co-owner of Red Barn Market. "In this campaign, the grocery stores put aside competition for something greater, a food secure region where no one goes hungry. We asked our customers to join us in taking the next step with us, and together with Victoria Foundation's match, we've raised $37,693. This is only the beginning, as all the participating grocery stores have signed on to make this an annual campaign and will continue to raise awareness of the issue of food insecurity throughout the year."
"The Victoria Foundation is thrilled with the results of this campaign, and even more excited that it will become an annual event for participating retailers," said Victoria Foundation CEO Sandra Richardson. "Although we've begun to make great strides towards ending hunger in our community, we have a long way to go and the Food Rescue Project will always have operating expenses. This campaign is an easy way for everyone in our region to help ensure the project's continued success."
"This campaign is a testament to the work that continues to address food insecurity in our region," noted Matthew Kemshaw, Executive Director of LifeCycles Project Society and Chair of the Food Share Network. "There are over 50 organizations participating in the Food Rescue Project helping feed 35,000 people from Port Renfrew to Mayne Island, from Esquimalt to Oak Bay. We still have a further 15,000 people to reach, to ensure that everyone has access to fresh and healthy foods on the South Island. With the addition of the Island Food Caring campaign to raise much needed funds for the Food Rescue Project, the grocery stores and their customers continue to be a part of community-based movement to end hunger in our region.
More information on Island Food Caring can be found at islandfoodcaring.ca